News And Views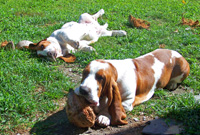 Welcome to the News and Views page. Here you'll find our latest articles posted by our NR news staff. They are working hard to keep you updated in various areas regarding the natural care of you and your pets.
Heartworm
Continued and consistent success with heartworm treatments and prevention.
New Vaccination Protocols
All 27 veterinary schools in North America are in the process of changing their protocols for vaccinating dogs and cats.
Important News Regarding the Natural Rearing Newsletter
We are no longer publishing the printed version of the Natural Rearing Newsletter. You can still purchase back issues. Contact us for additional information.